1. Create a new folder that you want to assign as My Documents folder, if you have another drive or partition ex: drive D: I recommended that you create My Document Folder to that drive.
2. browse to "C:\Users\<username>" using Windows Explorer (Press WINDOWS KEY + E to access this). Then, right click on My Documents and select Properties:
Then Click Location Tab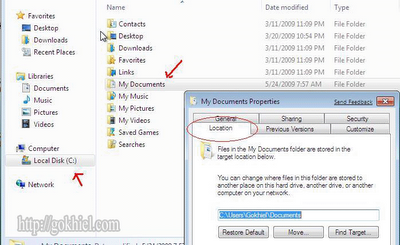 3. Then click Move then browse to new location for your My Documents folder.
Once you find new folder for your document click Select Folder
4. then click Apply, there will be pop up message to confirm the changed, click Yes to move your documents to the new location, or click No to leave your documents in the original location.